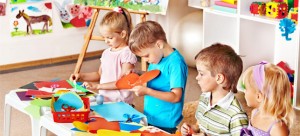 The purpose behind the establishment of Gumdrop Kids is to provide genuine, safe and reliable day care facility for children from 2 1/2 to 5 years of age. Furthermore, our aim is to enhance the all-round development and education of children. For this reason, we are offering both age-appropriate play facilities as well as learning opportunities to children, which impact and encourage lifelong learning. Also, we endeavor to provide best in child care and early education for the children in a safe and nurturing environment.
What makes us a better daycare centre than others is the fact that we provide parents with regular feedback sessions to keep them updated on the child's progress. Moreover, here at Gumdrop Kids, to keep children engrossed to their learning sessions, we have maintained stimulating academic environment and provide them with latest facilities and activity based learning.
What's more, at our daycare center we have a dedicated staff and teachers who are well qualified and trained in early childhood development. All our teachers are caring and make special efforts to cater to children's needs. We understand that it is not easy for children to adjust in a new environment other than their home and, therefore, we make certain to provide loving and caring environment to children to make them feel secure and at home.
We make best possible efforts to fulfill our quest, to help your child grow up to be a healthy and smart individual.